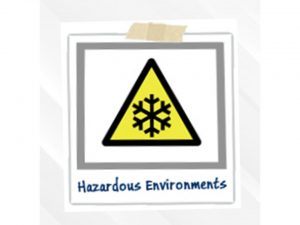 The considerations that should be made when designing for builds in hazardous environments.
The Dangerous Substances and Explosive Atmosphere Regulations 2002 (DSEAR), defines a hazardous area as "any place in which an explosive atmosphere may occur in quantities such as to require special precautions to protect the safety of workers".
It's vital that precautions are taken when constructing, installing and using apparatus in areas that are defined as hazardous.
Hazardous areas are classified under six zones. Three zones associated with gas are classified under Zone 0 and are areas where an explosive gas atmosphere is present. Zone 1 is an area where an explosive gas atmosphere is likely to occur in normal operation. While Zone 2 covers areas where an explosive gas atmosphere is not likely to occur in normal operation. The other three zones are associated with dusts, which are either flying and explosive, conductive or non-conductive.
Any facility that processes, uses or manufactures materials that may give rise to a flammable atmosphere, such as gas, mist, liquid and small fibres (dusts), may have a potentially explosive atmosphere. The equipment used needs to be weighted so that there is no chance of creating explosions. Equipment should be designed in such a way that it is stringently safe and includes current limiting devices to stop sparks.
Before equipment can be used in any hazardous area, it must undergo rigorous checks and testing by a registered ATEX test house. ATEX is the name given to two European directives that aid in controlling explosive atmospheres. The first, Directive 99/92/EC (ATEX 137) assess the minimum requirements for improving health and safety protection for workers in potentially explosive environments. Directive 94/9/EC (ATEX 95) looks at the laws concerning equipment and protective systems intended for use in potentially explosive environments.
When constructing a new facility or working in an existing environment, it's important that the installation of new components is done using the most efficient techniques to reduce the risk of incidents. Modularisation is a technique which sees equipment or parts of a facility built offsite and installed later, taking the risk out of working on a hazardous site. Modular builds reduce site disturbance, minimise waste, are more cost effective and allow for greater design flexibility.
Finally, while ATEX testing is vital to identify and resolve potential risks at the start of a project, it's important that inspections continue on a regular basis throughout the equipment's lifespan.
Read more here.